Upcoming Worship Service Events
Latest Worship Service News
Advent and Christmas at United Parish
Posted:
Dec 4 2017 - 2:11pm
Join us this Advent Season
Midweek Worship
Thursdays 6:30-7:00pm
December 7, 14, 21
Take time to breathe during candlelight services in the Chapel.
Sunday Worship
Sundays at 11:00am in the Sanctuary
December 3, 10, 17, 24
Watching and waiting for Christmas with music and messages of hope, peace, love, and joy.
Christmas Eve
Sunday, December 24 in the Sanctuary
11:00am Intergenerational Unrehearsed Christmas Pageant
7:30pm Prelude Concert with Chorus and Harp, Benjamin Britten's A Ceremony of Carols
8:00pm Candlelight Lessons and Carols Worship Service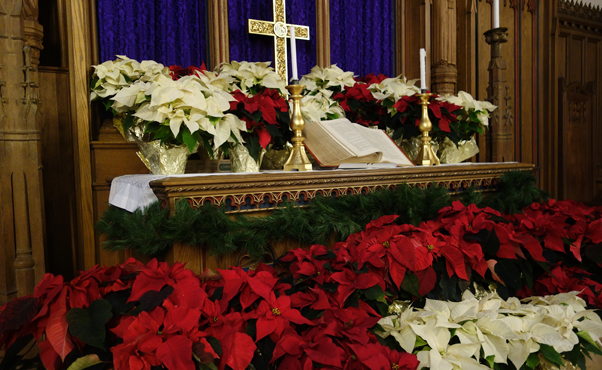 It's Poinsettia Time!
Posted:
Nov 22 2017 - 9:22am
Each year we decorate the Sanctuary on the Sunday before Christmas Eve with poinsettias donated by individuals and families honoring or in remembrance of a family member or friend. There is an online form you can fill out here (preferable) or you can email office@upbrookline.org with the following: (1) your name(s), (2) who you are honoring or remembering. Please donate $10 per name; if writing a check, put "poinsettia" on the memo line. Donations can be sent to the Church Office or dropped in the offering plate on Sundays during worship. DEADLINE: Tuesday, December 12 at 12pm.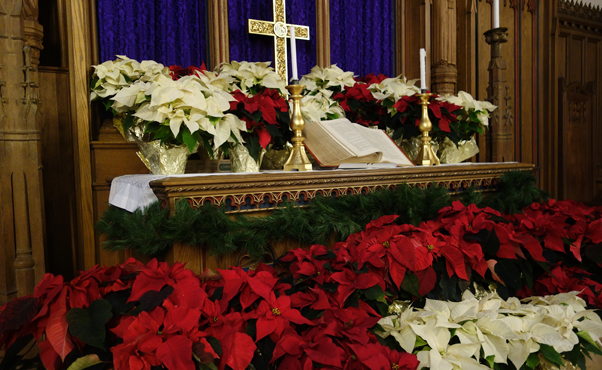 Advent Midweek Worship
Posted:
Nov 20 2017 - 5:55pm
Join us Thursday evenings in Advent, from 6:30-7pm for a contemplative worship service in our Chapel. December 7, 14 and 21. The Advent season is a counter-cultural response to all of the busy-ness that can creep up around us. It means SLOWING down. Remembering to breathe. Taking extra time to pray. Listening. Watching. Waiting. Taking something off of your list and replacing it with quiet and contemplation. We invite you to observe Advent during the bustle of the holiday season, by stepping into the quiet and candlelight on Thursdays, for some centering time of prayer and song. Contact: exalting@upbrookline.org