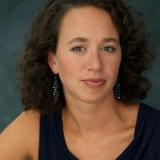 Liz has felt at home at United Parish Brookline the spring of 2017, when she started singing with the choir on some Sundays and in the Brahms Requiem. Her vocation for teaching vocal pedagogy soon aligned with the growth of the choir, and an alto workshop turned into her coming on as the Assistant Director of Music. She is very excited about the possibilities to empower the voices of United Parish to praise and serve.
Outside of United Parish, Liz is a mezzo-soprano with an active career as a professional choral musician, soloist, and voice teach in the Boston area and beyond.  She is currently the Director of the Holden Voice Program across the river at Harvard University, where she also teaches the Skills for Singing class and has a full private studio. After making her professional opera debut in 2009 with OperaTampa in Puccini's Suor Angelica, Liz divided her time between building a high school voice program and singing in Virginia, increasingly finding her home to be the intersection of choral music and vocal pedagogy.
Liz believes in the synthesis of fact-based, current vocal pedagogy with personal transformation. Singers should understand how the instrument functions, become comfortable with assessing and organizing their own voice, and connect to their individual gifts of artistry and emotion. Developing this healthy relationship with one's voice takes time, practice, love, and appropriate repertoire; it is a worthwhile and important journey. Liz works with students of all ages and meets them wherever they are on that journey.