Community Thanksgiving Dinner
Every year on Thanksgiving Day @ 1:00pm United Parish in Brookline hosts a full sit-down Thanksgiving meal for up to 175 people.  The meal and service are all provided by volunteers in the church and in the community, and some food local organizations.  The meal is offered free of charge. 
The church office does ask for an RSVP to give those who work tirelessly on this project sufficient information about the number of people to expect for the meal.  The church office is receiving RSVP's now.  You can also email thanksgiving@upbrookline.org to RSVP or volunteer to help out that day.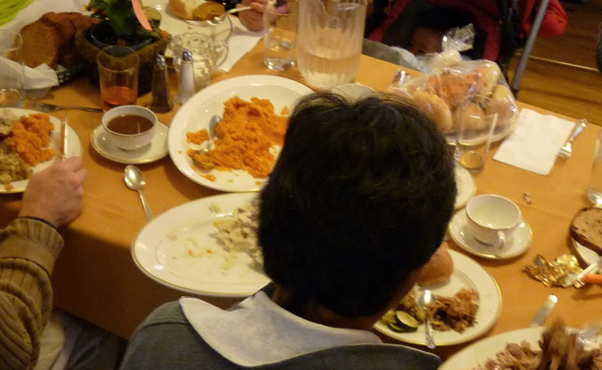 Latest Community Thanksgiving Dinner News
Update on Thanksgiving Dinner Needs
Posted:
Nov 3 2016 - 10:21am
Attention United Parish Members: Community Thanksgiving Dinner Sign-Ups Continue
As of Friday, November 4:
For food, we are doing well. We need the following:
3 frozen turkeys (NOTE: All turkeys should be frozen and delivered by Sunday, November 20.)
10 pies. (We raised pies to above one slice per guest this year.)
For labor we are fully booked for Wednesday. We need the following on Thursday:
Cooks: 4 people 6:30 - 9:30am 6 people 9:30am - 12:30pm
Servers 7 people 12:30 - 2:00pm
Greeters: 6 people 12:30 - 2:00pm
Packing take-home: 4 people 1:45 - 2:30pm
Cleaning Crew 8 people 1:15 - 3:30pm 8 people 3:30 - 5:00pm
Contact: thanksgiving@upbrookline.org or call the church office (617-277-6860)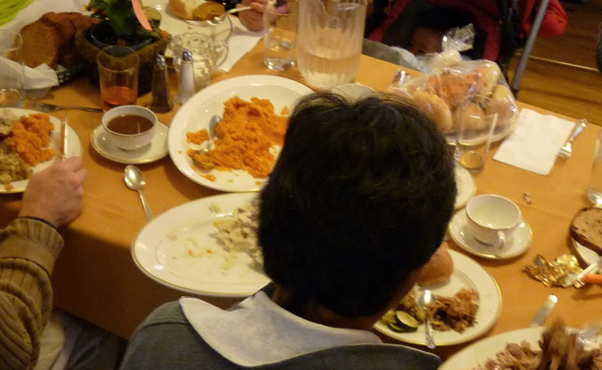 Community Thanksgiving Dinner
Posted:
Oct 18 2016 - 3:12pm
United Parish has a long-standing tradition of extending a warm and welcoming invitation to the community-at-large for its annual Thanksgiving Day Community Lunch @ 1pm. It is free and open to everyone in the community.
This very special United Parish event brings together those who have recently moved to the community, those who live far from friends and family, as well as those who are unable to cook their own meal but wish to gather with friends and give thanks.  The meal is at 1pm - doors open @ 12:30pm - the entrance is 15 Marion Street.
An RSVP is not necessary, but helpful.  To RSVP or to volunteer, contact the Church Office or email thanksgiving@upbrookline.org.