At United Parish in Brookline we love any excuse for two things: a chance to get together and a chance to eat!
Coffee & Conversation
Each Sunday before and after worship, the church comes alive with the smell of coffee, the sound of conversation, and goodies brought by members and friends. Connect with long-time friends, engage with visitors or find a quiet corner to catch up on the news. All are welcome!
Dinners for Eight
Twice a year, the Gathering Ministry Team hosts dinners (and cookouts!) for about eight in nearby homes and at the United Parish building. These gatherings offer good food and good conversation in a small group setting. Sign up when the next Dinner for Eight is announced. Everyone is welcome!
Picnics
Potluck picnics allow us to make closer connections amid the smell of a charcoal grill, the sound of laughter and the taste of potato salad, hot dogs, homemade dishes and fresh baked cookies!  Picnics take place next to the church building in our own Memorial Park. There we share stories, welcome visitors and sit around picnic tables while children jump and play on our playground equipment.
Potlucks
Throughout the year, we gather for shared meals and time to connect and enjoy each other's company. Potlucks are a great way to get to know someone you haven't met before, and catch up with old friends too. 
Upcoming Let's Eat! Events
Latest Let's Eat! News
All-Parish Meeting and Lasagna Lunch
Posted:
Oct 31 2017 - 12:45pm
Join us after worship on Sunday, November 19 in Willett Hall for our all-parish meeting and potluck lunch. We will provide lasagna, garlic bread, and drinks. Last names A-M are encouraged to bring desserts, and N-Z are encouraged to bring side dishes. But the most important thing to bring is yourself! Contact gathering@upbrookline.org for more information.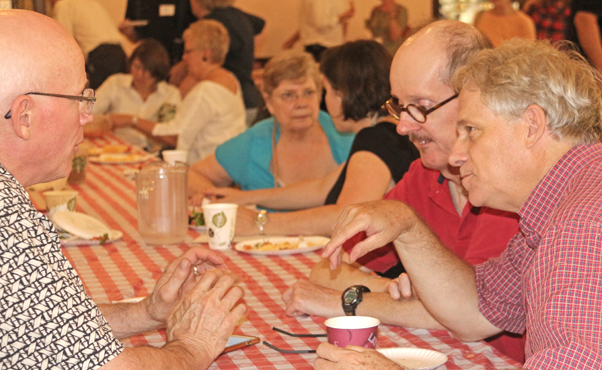 Dinners for Eight in August
Posted:
Jun 29 2017 - 10:50am
Interested in attending a summer dinner? Dinner guests can sign up on the bulletin board in Willett Hall. We encourage you to try to share a meal with people you don't know well. If you have questions or want to attend but won't be able to sign up in person, email gathering@upbrookline.org.
Sign up for one of the times below to join in on the fun and fellowship! More details are available on the bulletin board in Willett Hall.
*SIGN-UPS HAVE CLOSED*
Sunday, August 20 at 6:00pm (hosted by Kate H. in Brookline)
Tuesday, August 22 at 7:00pm (hosted by Debra H. at United Parish) (Combined with the August book group for Anne Lamott's Hallelujah Anyway.)
Saturday, August 26 at 4:30pm (hosted by Bob and Patricia S. in Brookline)
Saturday, August 26 at 5:00pm (hosted by Ed D. in Brookline)
Sunday, August 27 at 4:00pm (hosted by Amy C. in Waltham)
Sunday, August 27 at 5:30pm (hosted by Caitlin and Henry M. in Roslindale)
*NEW* Sunday, August 27 at 6:30pm (hosted by Katy and Ben M. in Newton)
(Updated 8/24/17)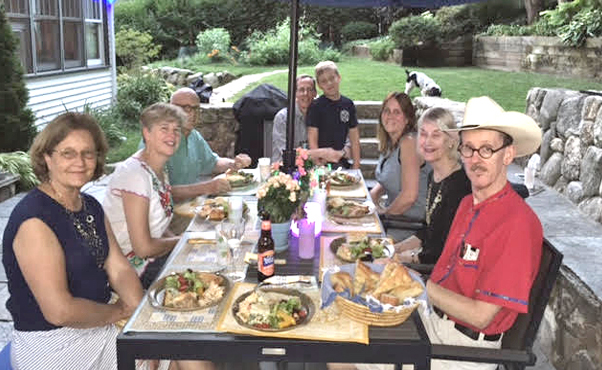 Let's Gather this Easter Weekend
Posted:
Mar 29 2017 - 3:25pm
All are invited to gather for two events over Easter Weekend for fun and fellowship: Easter Egg Hunt on Saturday April 15 @ 10:30am (Griggs Park) and Easter Brunch on Sunday @ 9am in the church Parlor. All are welcome. Read more.
On Saturday, April 15, we invite the young and young at heart to join us in Griggs Park @10:30am. Read more for details.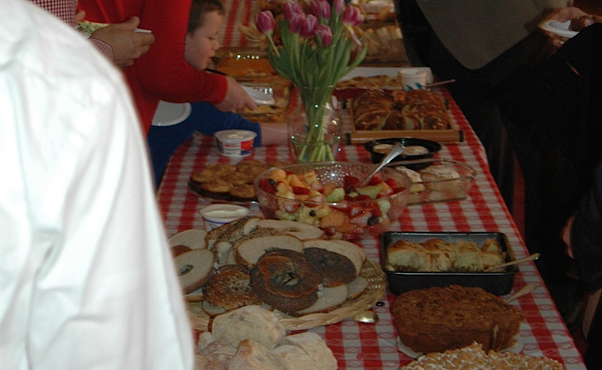 On Easter Sunday, April 16, beginning at 9:00am we welcome all to come join us for a drop-in potluck breakfast in our Parlor. Bring some breads, fruit, pastries - whatever your favorite Easter breakfast contains - and enjoy the company of others at the beginning of the day's Easter celebration.  The Nursery will be open for children ages infant - 5 years old - @ 9am. We will also enjoy Coffee Hour together after worship.
We hope to see you on Easter morning for fellowship and worship.