The Youth Choir is open to sixth/seventh through twelfth graders. The Youth Choir leads, enhances, and deepens our worship experiences through their anthems and special presentations. The youth sing in parts, develop vocal technique and musicianship, and work on a wide range of repertoire, from gospel to classical. They occasionally sing with the adult choir and serve as role models for the younger choirs.
Rehearsals are Sunday mornings from 9:0 - 9:45 a.m. in the Parlor. The Youth Choir sings about once a month during the 11:00 a.m. worship service.
Want to get involved? Have questions?
Upcoming Youth Choir Events
Latest Youth Choir News
MARCH
Posted:
Feb 1 2017 - 9:54am
On their Winter Retreat last weekend, our Youth Choir and Carolers began the creative task of staging portions of "March," their dramatic presentation examining a history of oppression, from biblical and American slavery, to the Civil Rights and Black Lives Matter movements.
As the presentation will center around acts of Godly protest, one of the first tasks the children accomplished was the making of their own protest signs, pictured below. What poignant messages come from the minds of our little ones!
They also practiced, and created their own words for protest songs from the Civil Rights Movement, tying the thread of oppression through the millennia in language we can all understand.
On Sunday, February 12, the children and youth choirs and church schoolers will offer this dramatization in worship @ 11am in the Sanctuary. Come watch and experience their creative understanding of our history, unfolding in scripture, song, and story.
Special thanks to Merle P., David R., and Deb W., without whom none of this would be possible!
Read the Pastor's Blog HERE for a further description of the event.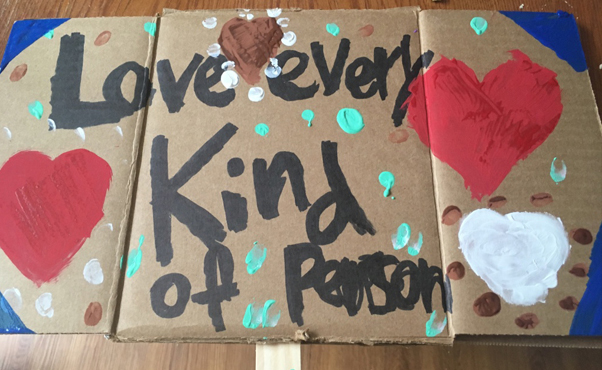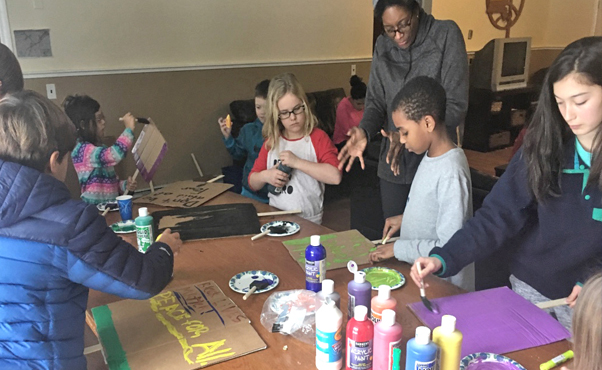 Children and Youth Choir and Arts Festival
Posted:
Nov 9 2016 - 4:29pm
Some members of the Carolers and Youth Choir will be attending the Children and Youth Choir Festival on Saturday November 19, at the St. John the Evangelist Roman Catholic Parish, 700 Washington St., Canton, MA.  The worship at the end of their day is at 5:15pm.  All are welcome.
The Boston Choristers Guild is a national ecumenical organization of children's choirs that has served for over sixty years, enabling leaders to more effectively nurture the spiritual growth of children and youth through music.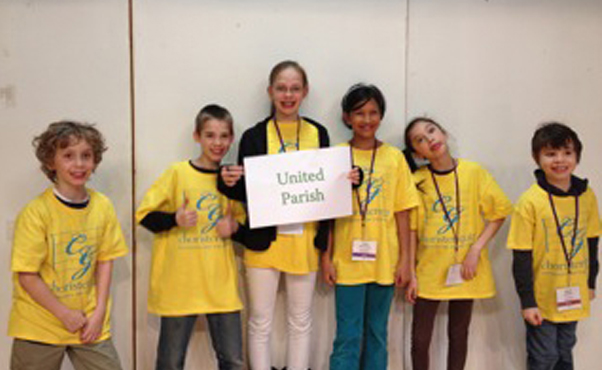 Choir/Music Camp - August 29-31
Posted:
Aug 4 2016 - 9:41am
For the first time ever, we are planning a FREE 3-day choir/MUSIC camp from August 29-31 at United Parish.  We will meet with children and youth, grades 2-12, from 8:30am to 12:30pm! Trey Pratt will be "camp director", and will have the kids singing, dancing, drumming, and playing together.
Much of the singing time will be spent focusing on music for the children's and youth choir festival, held on November 19 this year! Campers will also learn about music, the hymnal, and ways that we sing/pray in worship. There will also be plenty of time to just relax and have fun.
We are so excited to be able to offer a camp this summer! Please know that ALL are welcome - including friends of your children that are not members of United Parish! It would be amazing to have a crowd of kids warming up our church at the end of August!
If anyone needs help with pick-up/drop-off, let us know. We can help figure out rides together.
Please respond by August 24 to the Church Office per your interest in attending! We'll need to have a head-count soon so we can plan activities accordingly. Dietary needs, if not already registered, would definitely be helpful.
It is thrilling for us to be able to offer a free music camp as we look with anticipation upon a year filled with joy, friendship, and singing! Spread the word - and spread the love!