The Chancel Choir is a non-audition community of adult singers anchored by four professional section leaders. We lead vibrant congregational song and enhance worship with inspired music of all styles and eras. We welcome singers of all levels of training and experience, incorporating musical and vocal training into our rehearsals.
Rehearsals are Thursdays from 7:00 - 9:00 p.m. in the Choir Room.
Want to get involved? Have questions?
Upcoming Chancel Choir Events
Latest Chancel Choir News
UCC Musicians Association Conference Worship
Posted:
May 18 2017 - 7:46am
Boston is welcoming the bi-annual 2017 United Church of Christ Musicians Association (UCCMA) National Conference July 9-12. The planning committee has been working very hard to create a conference that will nurture, invigorate, and inspire.
Housing, workshops, and conference rehearsals will be held at Simmons College, located in the Fenway neighborhood, steps away from the historic Museum of Fine Arts and Fenway Park.
Each night, attendees will experience one of Boston's historic churches in neighborhoods rich with the story of our nation, and led by a variety of ministers, musicians, and musical styles.  All 4 evening worship services are free and open to the public.
Sunday, July 9 - United Parish in Brookline

Concert @ 7:30pm
Festival Worship @ 8:00pm

Monday, July 10 - First Church in Cambridge

Lecture @ 7:30pm
Evening worship with Night Song @ 8:00pm

Tuesday, July 11 - Old North Church in the North End

Concert @ 7:30pm
Worship in the Early American tradition @ 8:00pm

Wednesday, July 12 - Back Bay's Old South Church

Concert @ 7:30pm
Festival worship @ 8:00pm
During all sessions of the conference, we will learn, make music, and worship with some of Boston's finest spiritual and musical leaders: the Rev. Dr. Mary Luti, formerly of First Church in Cambridge and Andover Newton Theological School; the Rev. Dr. Nancy Taylor, Senior Minister of Old South Church in Boston; André de Quadros, co-founder of the Empowering Song approach to music education; Betsy Burleigh, chair of the department of choral conducting at Indiana University; Jane Money of Boston City Singers children's choruses; Griff Gall of the Back Bay Ringers handbell choir; Willie Sordillo, specialist in jazz worship; Megan Henderson of the Cambridge Revels early music ensembles, Nick Page, song leader and director of Mystic Chorale, and many others!
In a town of historic buildings, maze-like roads, and expensive everything, one of our top priorities is to maintain the affordability of this conference while ensuring attendees a comfortable stay. We believe we have accomplished both, and have crafted a memorable ​conference. ​​
July will be a busy time in Boston. If you plan to stay in accommodations other than Simmons College, either during the conference or before or after, we recommend that you make your reservations as soon as possible.
Register now to attend the conference.  All evening worship services are open to the public.
We are looking forward to seeing you!
Susan DeSelms, Conference Chair
Minister of Music, United Parish in Brookline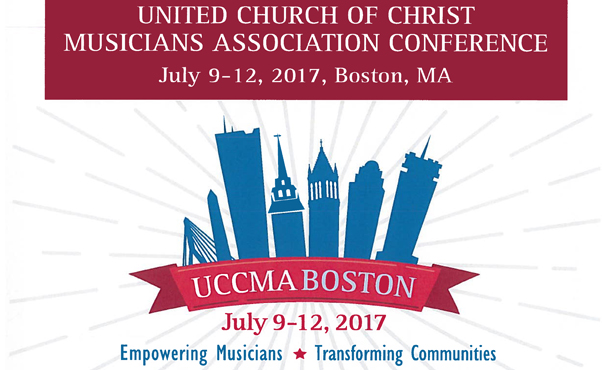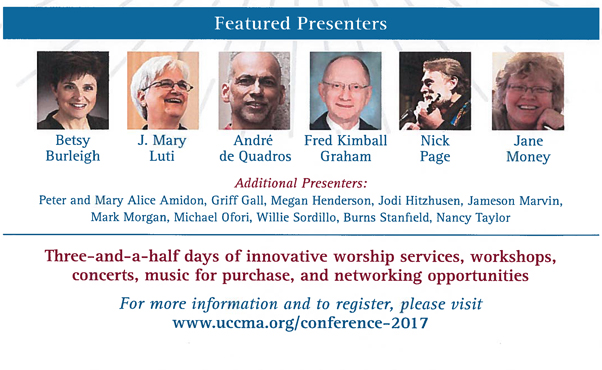 Palm Sunday, Holy Week and Easter 2017
Posted:
Mar 21 2017 - 3:43pm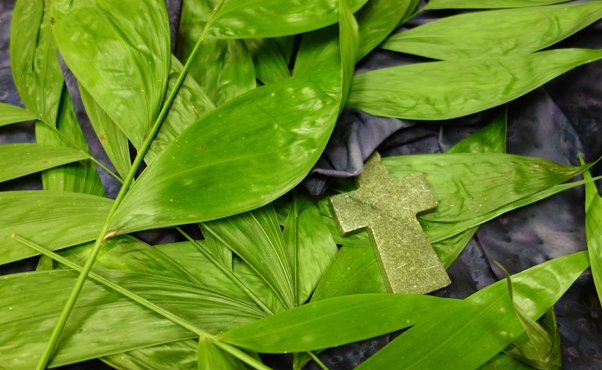 Join us for Palm Sunday, April 9, as we enjoy our children leading the Palm Processional celebrating the story of Jesus entering Jerusalem.  The Chancel Choir will sing movement II of the Requiem by Johannes Brahms: "For all flesh is grass . . . the grass withereth . . . but the word of the Lord endureth forever."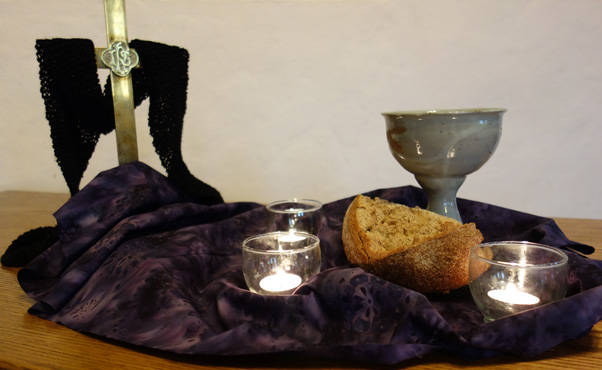 Each year, all are encouraged to take time for Holy Week by worshiping together on Maundy Thursday, April 13, and Good Friday, April 14. These worship services are an important part of our Easter story. They are darker, for sure, and rich with meaning about what it means to walk through death into resurrection. The darkness of Maundy Thursday and Good Friday are in the world around us all the time. We, however, practice a Resurrection faith. We are willing to shine the Christ-light in the dark. Sometimes we need to meditate on the darkness to understand how and why we need to shine the light. 
On Thursday, join us at 6:30 in the Chapel to experience foot or hand washing, remembering how Jesus showed his love for his closest friends the night before He died.  Worship begins at 7:00pm in the Sanctuary. The worship will include the Chancel Choir singing movement 3 of the Requiem by Johannes Brahms: "God, make me consider my frailty . . . man passeth away like a shadow . . . what do I wait for? My hope is in Thee." 
Good Friday's worship (7:00pm) reminds us of the crucifixion, taking us through the moments of betrayal, denial, torture, mocking and dying on the cross.  We hear the seven last words of Jesus, and meditate upon them with a thoughtful retelling, contemplative music, and silence.  Again, we will pair contemporary images of current events with Jesus' last words.  Gradually, we extinguish the lights in the sanctuary and walk together into the night. During the Good Friday worship service, the Chancel Choir will sing the Reequiem 5th movement: I will comfort you, as one whom his own mother comforteth . . . labor and sorrow were mine, but at the last I have found comfort."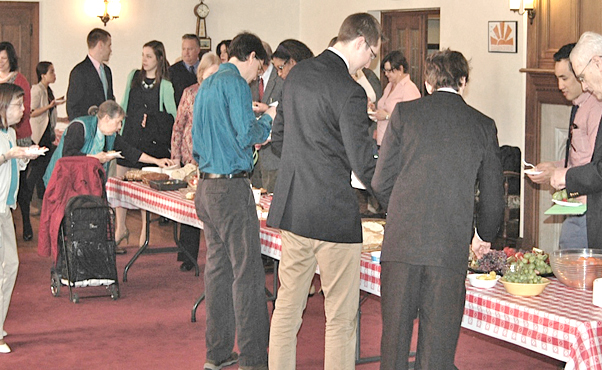 On Easter Sunday, April 16, we will once again gather in the light of Easter to grandly celebrate the resurrection.  The nursery for children up through age 5 will open at 9:00am. Beginning at 9:00am we welcome all to come join us for a Drop-In Pot-Luck Easter Breakfast in our Parlor. At 10:40am will be the musical prelude in the Sanctuary, featuring the 6th movement of the Requiem by Johannes Brahms, ending with the penultimate words, "Death, O where is thy sting?" and "Grave, where is thy triumph?" and the final fugue: "Worthy art Thou to be praised."
These words will lead us into the festival Easter worship when we will thrill to familiar and rousing songs and hymns of resurrection and praise. Hallelujahs and alleluias (meaning "praise God") will abound both in our congregational hymns and in our choral offerings. The trombone quartet and organ will inspire our hymns of resurrection.  The Chancel Choir will sing movement 4 of the Requiem, "How Lovely is Thy Dwelling Place."
Invite your friends. Invite your family. Come and join us on this wonderful day of worship. As on all Sundays, all are welcome. Come for some resurrection, for a reminder that death doesn't have the last word, and that love and hope live beyond the tomb.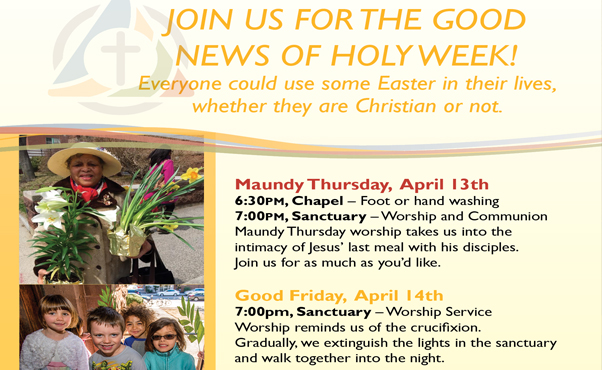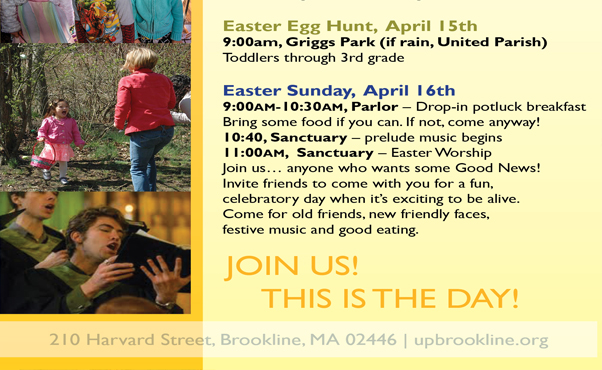 Annual Collaboration with Temple Shir Tikva
Posted:
Mar 15 2017 - 5:57pm
Each year the Chancel Choir at United Parish in Brookline collaborates with the choir of Temple Shir Tikva in Wayland. This year, we met on Friday, March 3 at Temple Shir Tikva in Wayland and on Sunday, March 5 at United Parish.
Over the past five years, this collaboration has celebrated our shared musical traditions singing arrangements of hassidic songs, spirituals, Jewish niggun, and various settings of the Psalms, including Leonard Bernstein's Chichester Psalms.
Both choirs and congregations have grown to look forward to this collaboration with great joy and excitement as we've developed lasting friendships, learned new music, and worshiped in new and different ways. This year's collaboration featured music in the folk, gospel, and 19th century classical traditions, presenting Movement 4 of Brahms' Ein Deutsches Requiem, Woodie Guthrie and the Klezmatics' version of "Holy Ground," and Paul Halley's broadway-gospel arrangement of "Hold to God's Unchanging' Hand," featuring our own, beloved broadway-gospel vocalist, Merle Perkins.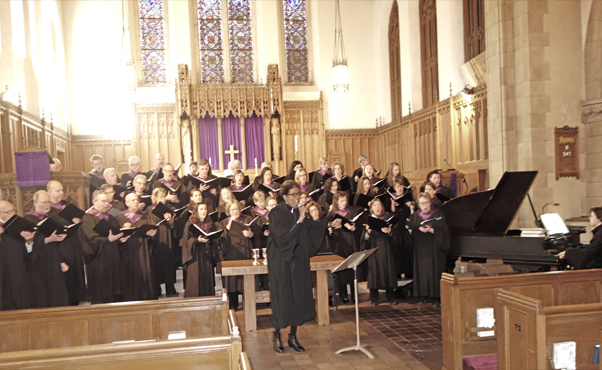 On Friday, March 3, our congregations celebrated Shabbat together at Temple Shir Tikva @ 6:15pm. Two days later, our congregations united at the United Parish in Brookline for 11 a.m. worship.
After worship, attendees enjoyed a chili lunch together and then worked together on a Rise Against Hunger service project, during which participants created 10,000 nutrient rich meal packages for food-insecure people in developing countries. Our congregations worked together to raise $3,000 and enlisted more than 60 volunteers to complete this inspiring and incredibly effective service project.