The Carolers are open to first through fifth/sixth graders. The Carolers are learning to lead worship and are really working at developing their musical skills. They are learning how to read music on the printed page, how to sing in parts, and how to play counter rhythms with each other on the drums. Carolers serve as leaders of worship and prayer by singing anthems, leading processionals, teaching new songs to the congregation, and sharing their songs with the community outside the church.
Rehearsals are Sunday mornings from 9:00 - 9:45 .m. in the Choir Room. Carolers sing about seven to eight times a year during the 11:00 a.m. worship service.
Latest Carolers News
Choir Camp Fun!
Posted:
Sep 1 2017 - 9:39am
Summer Music Camp at United Parish was a big hit! Several talented children came together for a week of singing, learning, and playing. They learned new music for Christmas and Easter as well as some fun tunes for any time of year, and showed off their spectacular dance moves and singing at a performance for parents and staff at the end of the week. They debuted their new handbell skills such as change ringing, and impressed the adults in the audience with their sight reading. Special thanks to Trey Pratt, Susan DeSelms, Amy Norton, Bethany L., Kate H., and our teen volunteers.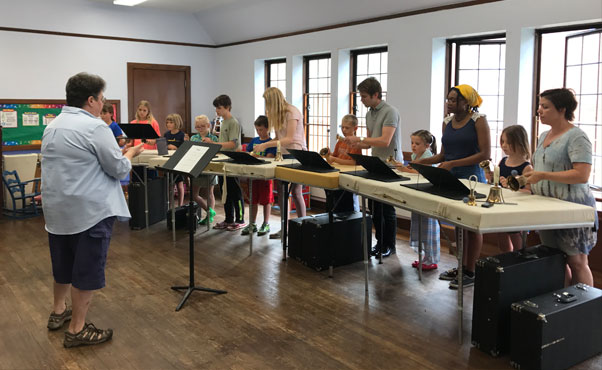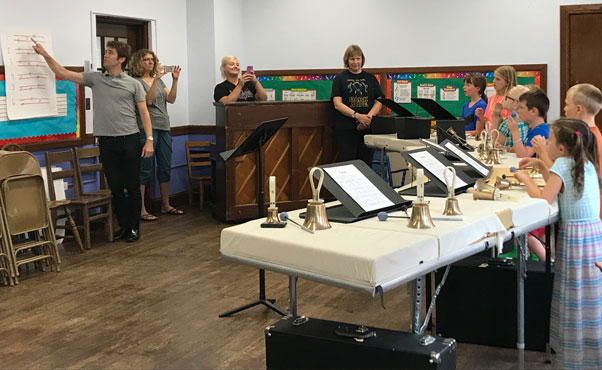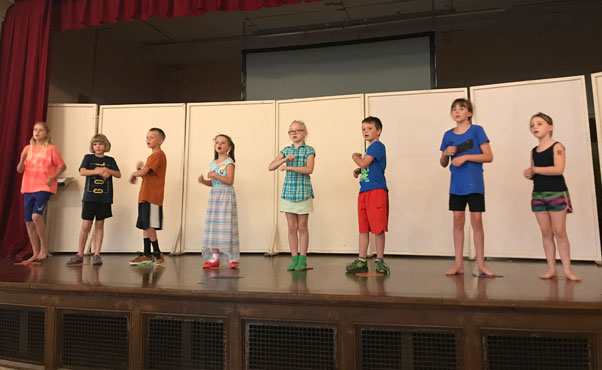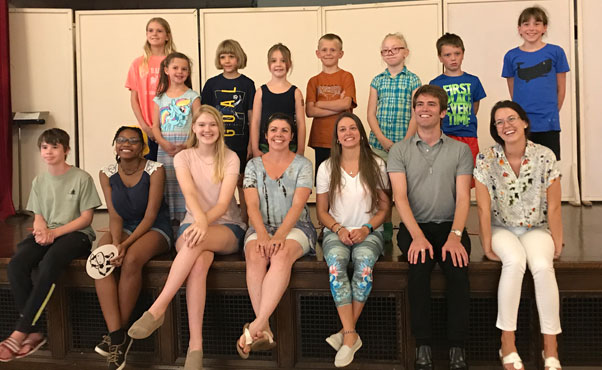 Summer Music Camp at United Parish
Posted:
Jul 25 2017 - 1:51pm
Make a joyful noise! Join us for a music camp for kids entering 1st through 6th grade. Youth entering grades 7 and up are invited to volunteer as teen counselors. Focused on singing, movement, and fun, this is a perfect way to end your summer on a high note!
August 28-31, 9am-3pm at United Parish
To learn more and register, click here.
MARCH
Posted:
Feb 1 2017 - 9:54am
On their Winter Retreat last weekend, our Youth Choir and Carolers began the creative task of staging portions of "March," their dramatic presentation examining a history of oppression, from biblical and American slavery, to the Civil Rights and Black Lives Matter movements.
As the presentation will center around acts of Godly protest, one of the first tasks the children accomplished was the making of their own protest signs, pictured below. What poignant messages come from the minds of our little ones!
They also practiced, and created their own words for protest songs from the Civil Rights Movement, tying the thread of oppression through the millennia in language we can all understand.
On Sunday, February 12, the children and youth choirs and church schoolers will offer this dramatization in worship @ 11am in the Sanctuary. Come watch and experience their creative understanding of our history, unfolding in scripture, song, and story.
Special thanks to Merle P., David R., and Deb W., without whom none of this would be possible!
Read the Pastor's Blog HERE for a further description of the event.